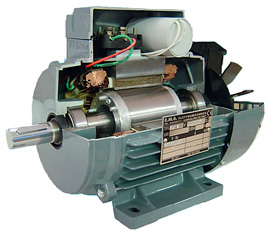 E.M.G. single speed asynchronous single-phase standard construction motors are available from MEC 56 to MEC 100 sizes. The power, from 0.06kW (0.08HP) to 2.2kW (3HP), comply with the standard EN 60072-1. These motors are able to satisfy a wide range of demands.
They are divided in M2 and M4 series referring to the meaning of the following symbols:


M
= Single-phase Series;
X
= 2, 4: number of poles.

Exploded view
standard single phase
MEANINGS OF THE SYMBOLS IN THE TABLE
The meanings of the symbols used for the main features are shown in the table for an easy reference of the technical specifications of the motors.